News 2013

September 22nd, 2013 - Jim McGorman and Steve Fekete at Berklee College of Music - September 23rd!
Jim and Steve are currently on tour with rising star Cassadee Pope and while in Boston, MA tomorrow, will be conducting a seminar at their alma mater, Berklee College of Music. If you are in the Boston area, below is Jim's tweet inviting you to attend the seminar.
Jimmy McGorman?@JimmyMcGorman
June 1st 2013 - Tour w/ Cassadee Pope
Jim and Steve Fekete just embarked on a tour with Cassadee Pope. She is opening for Rascal Flatts and Band Perry; apparently big shots in country music. The first concert was last night at the renovated Jones Beach Theatre. Here are some videos, shot by Lary Hirshon - a guy with a powerful camera and very steady hand. You can't see Jim nor Fekete, but you can hear Jim singing and Fekete's solo guitar. Worth your while.

Wasting All These Tears
Good Times
Over You

Again, at least one of us is not crazy about Jim's dabbling in country music, but... this isn't

really

country music plus, what's most important, this girl CAN sing and write some good songs.




May 10th 2013 - Radio Tour w/ Cassadee Pope

Jim,

together with Steve Fekete is currently on the road, accompanying Cassadee Pope, the winner of The Voice, Season 3. Cassadee is visiting country radio stations across the US, performing a few songs in each and promoting her upcoming debut album. Jim and Fekete are playing guitars and singing backing vocals. Yes, it's country music but it's pop-country, and she is a songwriter and a great singer, just like her idol, Avril Lavigne.



To tell you the truth, apart from Keith Urban, neither of us listens to any country, but this is not half-bad!

Here are some videos for you to check out:

98.7 The Bull

- Portland, OR

(May 07):

You Hear A Song
Wasting All These Tears
Over You (Jim on piano)
Good Times
Easier To Lie

KNIX 102.5

- Phoenix, AZ

(May 08)

You Hear A Song
Wasting All These Tears
Over You
Good Times
Easier To Lie




April 26th, 2013 - Avril Lavigne Live Showcase in The Viper Room
Jim, Avril and the Best Damn Band gave a little live showcase performance in The Viper Room, LA today. They performed 6 songs; two of them from the new, yet to be named album:

Here's To Never Growing Up

and 17.

Rumour has it that the video of the showcase will be posted, but until then here are a couple of half-decent ones from YouTube. At least the sound is OK.

Here's To Never Growing Up
17

Jim seemed to pretty extited to perform: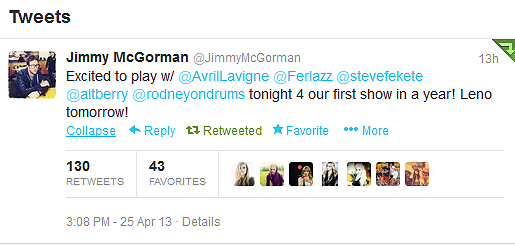 April 08th, 2013 - The Best Damn Band is back rehearsing!

January 16, 2013 - Richie Sambora in Purple Tongue Studio:
Says Jim on all the social media:



Last night I got to hang with one of my childhood idols. Richie Sambora was in my studio Purple Tongue Studio working on some new music! In my line of work, I have been fortunate to meet many of the people I grew up listening to. People who's posters I had on my wall. People who created music that defined/help shape my junior high and high school identity. Many times, the experience is a massive let down. This was not the case. Richie was one of the coolest and most down to earth guys I have met in this business. He smiles at you, looks you in the eye - and when you are having a conversation, it is real. He also has an amazing sense of humor - the ultimate jokester.



As a kid growing up in New Jersey in the 80's. Bon Jovi was a massive part of my musical life. I can't tell you how great it is that those memories were not tarnished by a less than favorable experience. Here's to you Richie - for being such a class act! #childhooddreamcometrue

Check out the photo.

News Archive from 2016
News Archive from 2015
News Archive from 2014
News Archive from 2011
News Archive from 2010